"Amazing, once in a lifetime experience"
Camp Info
Camp Type: Private Camp – Riversdale Athletics Club
Dates: April 13th – 27th
KE Staff: Willy Songok (Head of Guest Relations), Hugo van den Broek (Head Coach), Collins Kibet (Coach), Enock Kirop (Guest Relations & Photographer) + Run Guides
Location: Iten, Kenya
Accommodation: High Altitude Training Centre
Guest Info
Number of Guests: 20 (17 Young Athletes + 3 Adult Coaches/Staff)
Guests From: Canada
Age Range: 15 – 19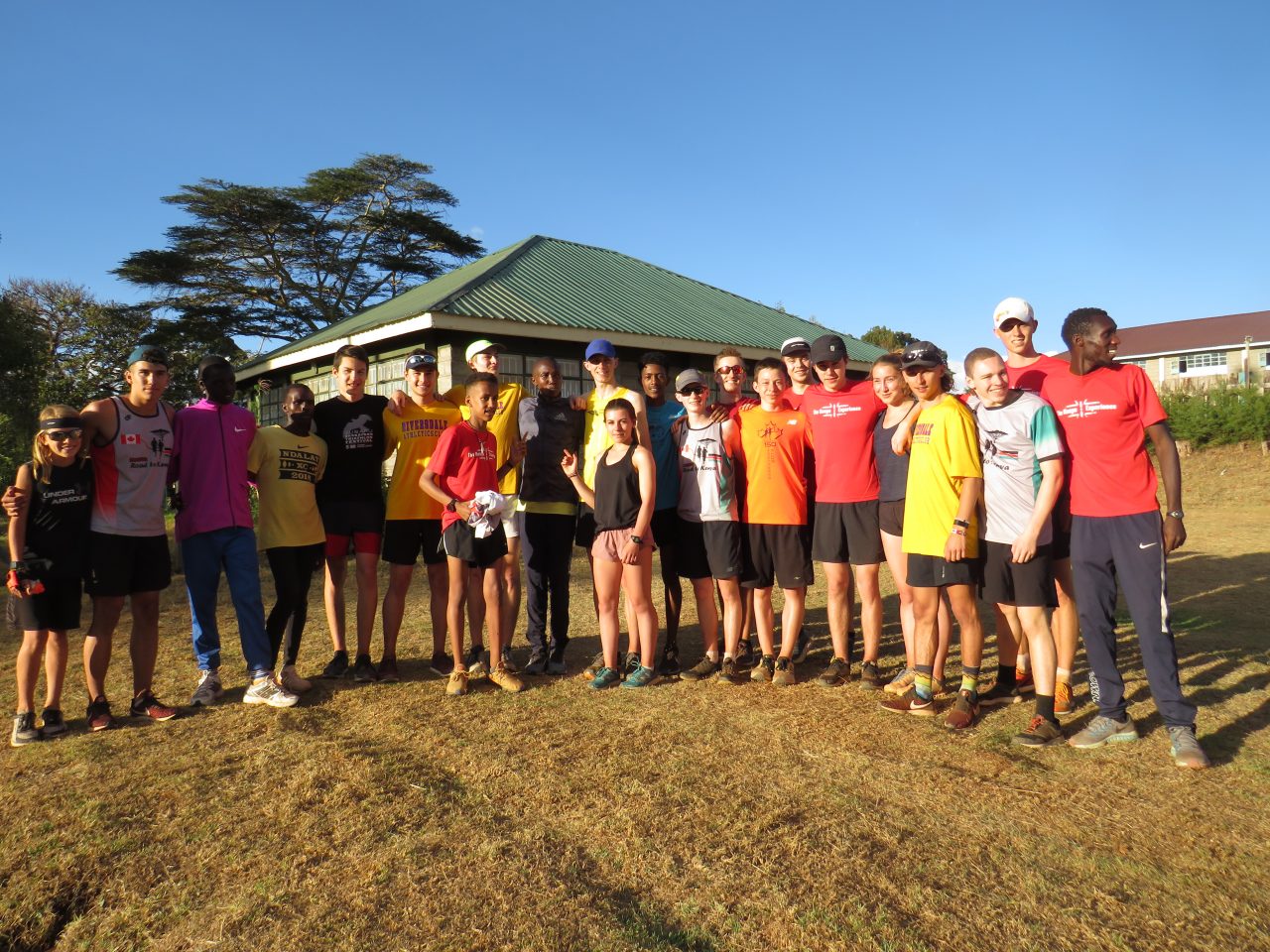 Camp Summary
The middle distance group from Riversdale Athletics Club in Saskatoon Canada joined us for a 2 week Kenya Experience Camp during their Easter break in April 2019. The 17 young athletes were joined by two of their club coaches and an additional staff member/parent in travelling to their Kenya training camp of a lifetime. 
Our full compliment of coaches and guides were excited to work with not only a great group of young runners but also RossAnn and Graham, the Riversdale AC coaches, who themselves came to learn from our own expert team. Not only were RossAnn and Graham able take valuable lessons away from our own Kenya Experience coaches, Collins and Hugo, we were also able to spend time with Coach Brother Colm O'Connell and his team of St Patrick's junior athletes. 
St Patricks High School Iten is perhaps the most famous school for runners in the world and we were delighted to spend an inspirational afternoon on campus with Brother Colm and his team. 
The Riversdale athletes had the unique opportunity to train alongside some of the fastest junior runners in the world during a running drills session led by Coach Ian Kiprono. Brother Colm was able to discuss and explain the workout to Coaches RossAnn and Graham as the session progressed. We were also able to chat and exchange ideas with Brother Colm and Ian who were so kind as to share stories and discuss their coaching philosophies with the group.
We also met some of the great St Patrick's athletes such as Rhonex Kipruto who went on to win bronze over 10,000m in the IAAF World Championships in Doha later that year. Interacting with athletes of the same age who are excelling in the sport at a world level gave the Riversdale athletes a real insight into how some of the world's best athletes train and their attitude towards the sport. 
Later in the camp we reinforced the drills and techniques under the watchful eye of KE coaches Hugo and Collins at the all-weather track in Iten. Hugo introduced some new exercises and drills that can be used as part of a group warm up to improve running efficiency and overall technique while Collins helped to perfect the 'Kenyan style' drills they had learned from training with St Patrick's. We were delighted to hear that the team intended to continue with this work when they returned to Canada and to include it as a regular part of their training. 
Another highlight for the group included taking part in the famous Iten Fartlek. To see this group of young middle distance runners getting involved with such a tough workout and really holding their own amongst the Kenyan athletes was a fantastic sight and spirits were very high.  As always, we were welcomed with open arms by local runners and passers by, and encouraged from start to finish by well-wishers watching from the sides of the trails. It was a great turn out of well over 150 athletes cruising up the demanding hills of Iten and along with our coaches and run guides the group had a brilliant Thursday morning workout 'the Kenyan way'.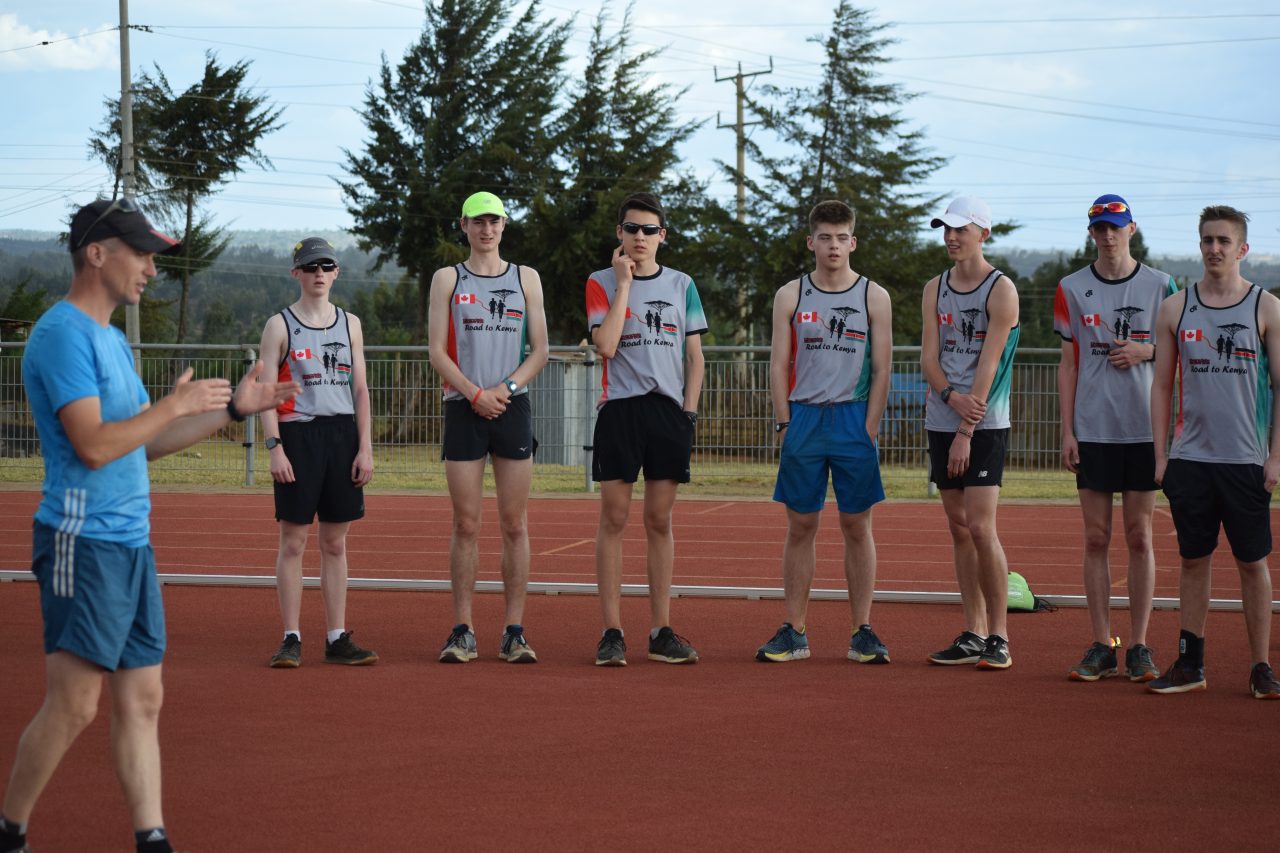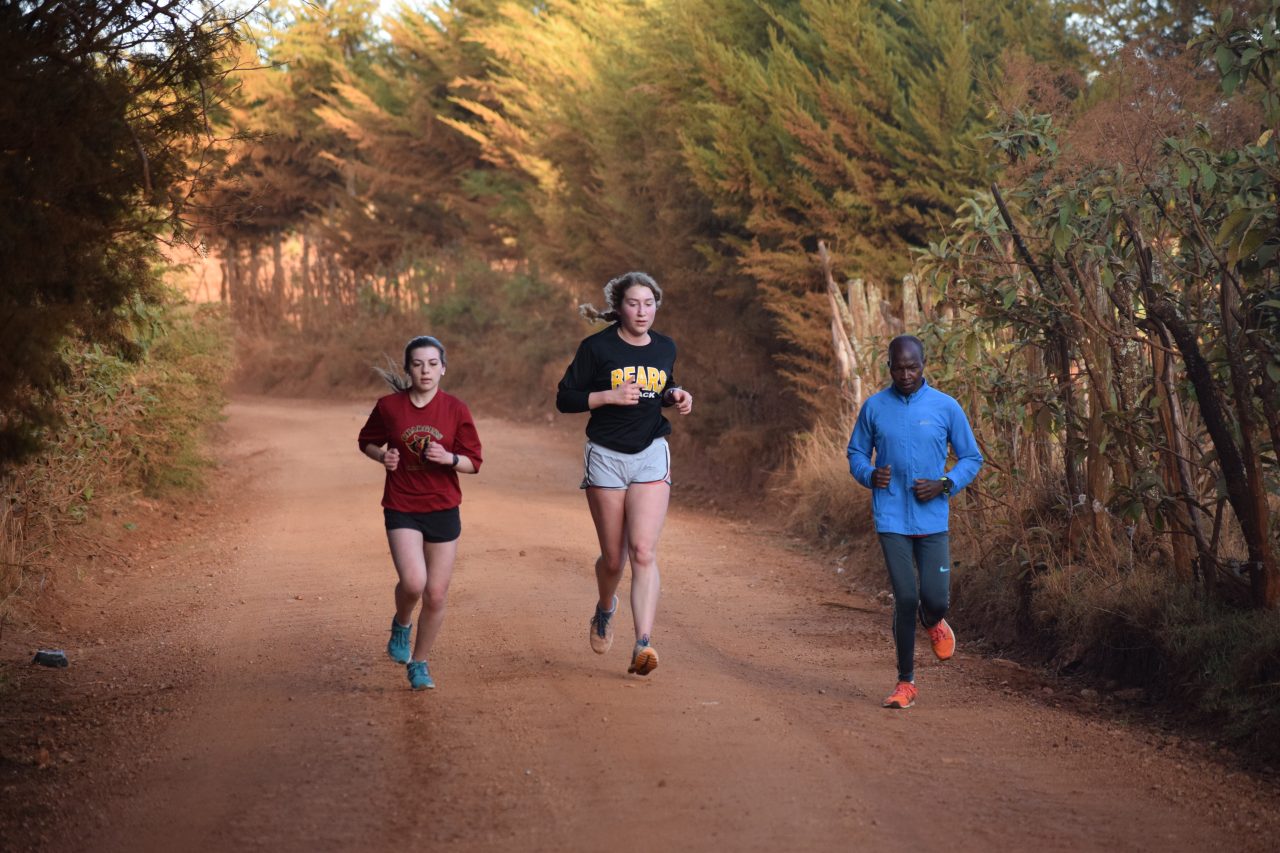 With groups of young athletes, it is especially important to us to include a cultural element to their trip. Although this is included in all our camps, we make a particular effort with school and young athletes to ensure that they experience a wide spectrum of Kenyan life in Iten. We want to meet star athletes such as Rhonex Kipruto, but we also want to see what life is like for the majority of athletes who have not yet achieved stardom or international success. 
The Riversdale team had also fundraised for our charity partner Gathimba Edwards Foundation in advance of their trip and they were able to visit the site of a building project they had helped fund. GEF were building a home for a local family in desperate need of suitable and safe accommodation and the Riversdale athletes hard work in fundraising before the trip was instrumental in ensuring that the build was completed. The team visited the site of the new home as well as meeting the family who would soon move in at their current home. This was an eye opening, humbling and inspiration moment. Myles Edwards from GEF said:
"We cannot thank RossAnn and her team at Riversdale enough. This was a family in dire need of shelter and they really have helped to change lives through their donation"
We also took the group to meet Emmanual Kipruto at his home in Iten. Emmanual is a local elite athlete who is also part of the Kenya Experience Run Guides team and had been running with the group each morning during the camp. Emmanual gave a us great talk about his training, the group he runs with and what it is like to live and train in the town of Iten among so many great athletes. This gave a unique inside view into the life of an elite Kenyan athlete and once again provided the group with an opportunity to learn ways in which they can improve their own running.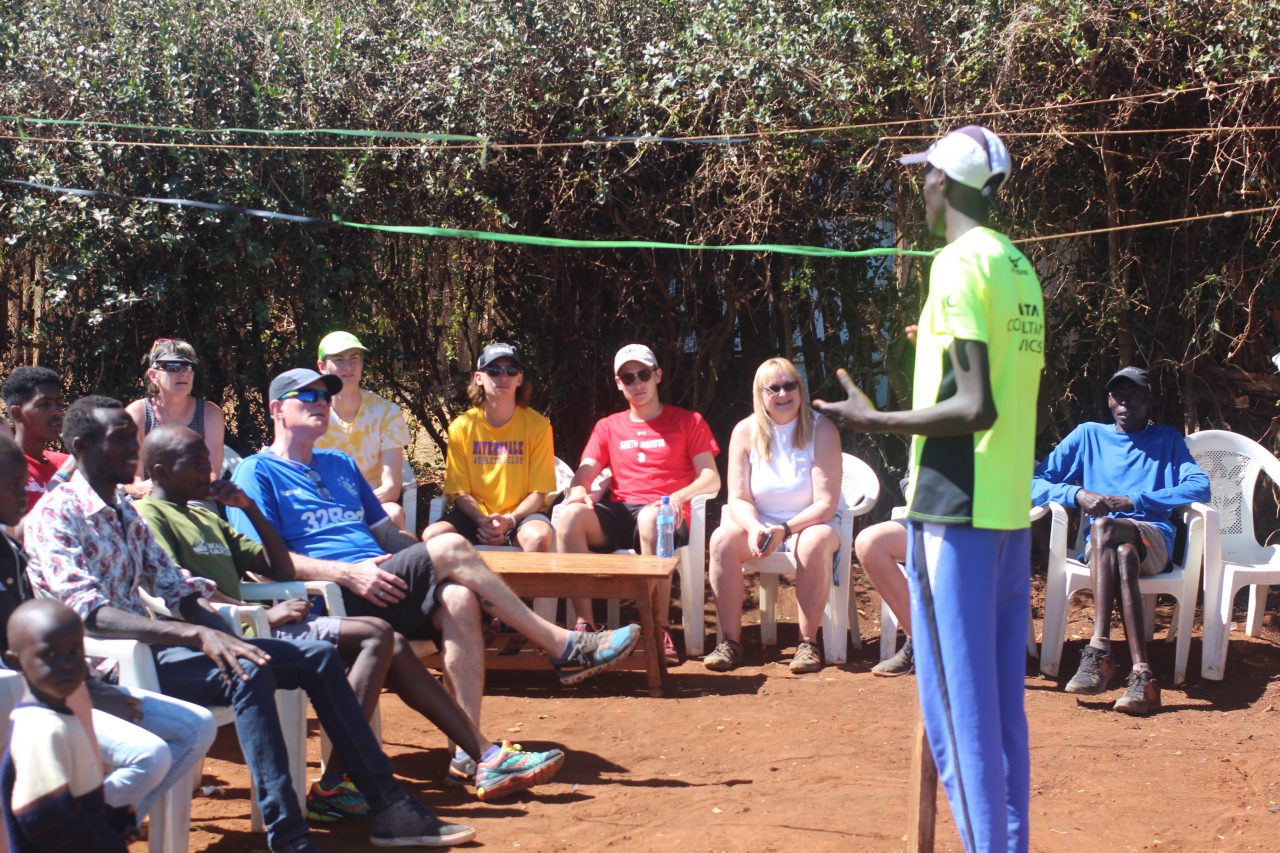 "We were very appreciative of all the people that we met. Hugo, Willy and Collins inspired us with their passion for running and genuine desire to expose us to Kenyan running. They were always open to answer questions and accommodate our needs."
– RossAnn Edwards (KE feedback form – April 2019)
"Amazing, once in a lifetime experience!"
[In response to "How would you summarise your overall Kenya Experience?"]
– Mathias Yuzdepski (KE feedback form – April 2019)
"Life changing experience "
[In response to "How would you summarise your overall Kenya Experience?"]
– Matthew Hrycuik (KE feedback form – April 2019)

Reviews
Our time with The Kenyan Experience exceeded our expectations! We had 17 high school track club athletes of varying performance levels. All were accommodated with the number of pacers that we had. The workouts were challenging and appropriate for our group. The Kenyan Experience staff were professional, accommodating and knowledgeable, sharing in seminars and giving us a camp of a lifetime experience. We were able to meet elite athletes in their homes and visit the famous St. Patrick's School. We trained alongside same-aged Kenyan athletes and elite athletes. The whole experience was tailored to our requests and needs. We had an amazing time!
Guest Feedback Statistics
Average rating:
9.3/10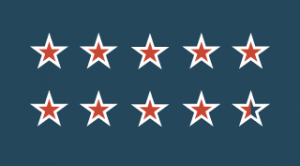 Percentage of Guests Who…
Would recommend KE to a friend:
100%
Thought KE provides good value for money:
100%
Thought KE offered good pre-camp support:
100%
Book Your Trip
The Kenya Experience provides running camps in Iten Kenya. With expert hosts, guides and coaches exclusively for our guests we  make your training camp in Kenya the perfect experience.
We offer camps open to all runners from across the world as well as private group bookings for schools, clubs or groups of friends.
If you like what you see in this camp summary then head over to the booking page to arrange your trip now. If you would like more information please email us on info@traininkenya.com and we will be happy to help.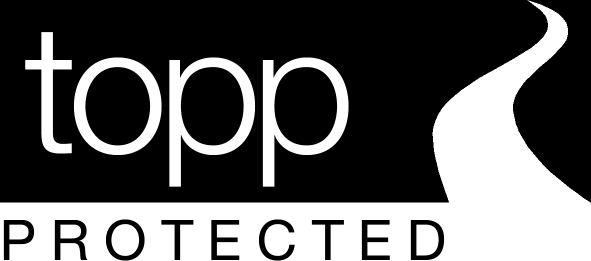 Customers' prepayments are protected by a topp policy. Worldwide customers' prepayments for non-flight inclusive packages will be reimbursed, subject to the terms and conditions of the topp policy. A copy of the policy is available on request.