Meet the experts who will lead your running camp in Iten: 
Our team in Iten consists of the perfect mix of experience & youth, local knowledge & international expertise. We have assembled a world class staff who will ensure that your running camp in Iten is the trip of a lifetime. 
Our team is led by Willy Songok, Head of Guest Relations. He leads the team which includes coaches Collins Kibet and Richard Mukche Photographer Alex Kariankei, and the team of guide runners which is captained by Emmanuel Kipruto. 
In addition to our core team you will also be joined each day on camp by our fantastic group of local run guides who will share the trails as well as their stories with you on training runs.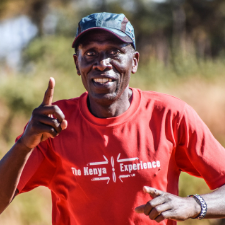 Head of Guest Relations
Our chief tour guide and your first point of contact throughout the camp.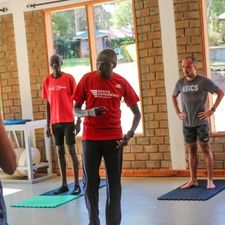 Coach
Former pro athlete and a hugely experienced coach.  Richard will be with you throughout the camp, coaching your workouts, leading seminars and practical sessions.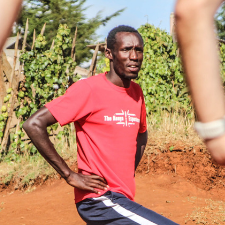 Coach
With you at every step, joining you for all runs and sessions, working closely with Richard and Songok.
What our guests say about us
The whole team is incredible – they really made our trip special.

Rebeca, Spain
From the start it's been well organised and the staff along the way have been lovely.

Sarah, UK
Thank you for all The Kenya Experience staff for the professional guidance and help in Kenya, it was such a positive experience.

Kristofer, Estonia
The Kenya Experience team were a pleasure to deal with from booking, to the entire trip and after getting back too. Thanks for some incredible memories that will last a lifetime!
Tom, UK
As always The Kenya Experience staff were very professional and accommodating
Theuns – Westlake School Coach and Teacher
Kenya Experience are the original running holiday in Iten. We hosted our first group in March 2011 and have since hosted hundreds of runners in Iten.
Our goal is to provide a running camp of unparalleled quality for runners of all levels from all corners of the world whilst enhancing and developing the local community.
The Beginning:
Kenya Experience was founded by Gavin and Lauren Smith in 2010. During their first trip to Iten they noticed that Iten was predominantly visited by elite athletes and that there was little opportunity for recreational and club athletes to train there with the appropriate support structures in place. They had a vision to make Iten an accessible training destination for runners of all levels whilst also providing employment opportunities for highly skilled local experts in the form of tour guides, coaches and guide runners.
Gavin and Lauren were resident in Iten from 2011 until late 2014 when they returned home to the UK. During their time in Iten Lauren was General Manager of the High Altitude Training Centre and Gavin worked alongside famed coach Renato Canova.
Company:
Kenya Experience is operated by Running Trips Ltd registered company number 11427509 in the UK. 
Contact us:
Please email us with any questions
Visit our booking page to book your place