Our Commitment to the People of Iten
By joining a running camp in Iten with us you are supporting the following ideals:
Job Creation
In an area with high rates of unemployment we provide skilled work for locals and support local businesses and people
Fair Pay
Our motivated and highly skilled staff are paid substantially above the going rate and in return we expect an excellent standard of work
Additional Income for Local Runners
We provide work as pacemakers and guides to local runners to support their training
Our Charity Partner
The Kenya Experience are proud to partner with Gathimba Edwards Foundation to 'Give kids in Kenya a chance'. For every booking made we purchase you a bracelet from GEF to support their projects in Kenya.
Gathimba Edwards Foundation was set by Myles Edwards and Gideon Gathimba to give kids in Kenya a chance.
With numerous projects across Kenya their aim is to help disadvantaged children get a start in life, whether it be food, education or shelter and giving them the opportunity to not only live their lives as children but also to develop as adults.

"The support of The Kenya Experience runners is truly life changing for our kids and is giving them the chance of a very bright future."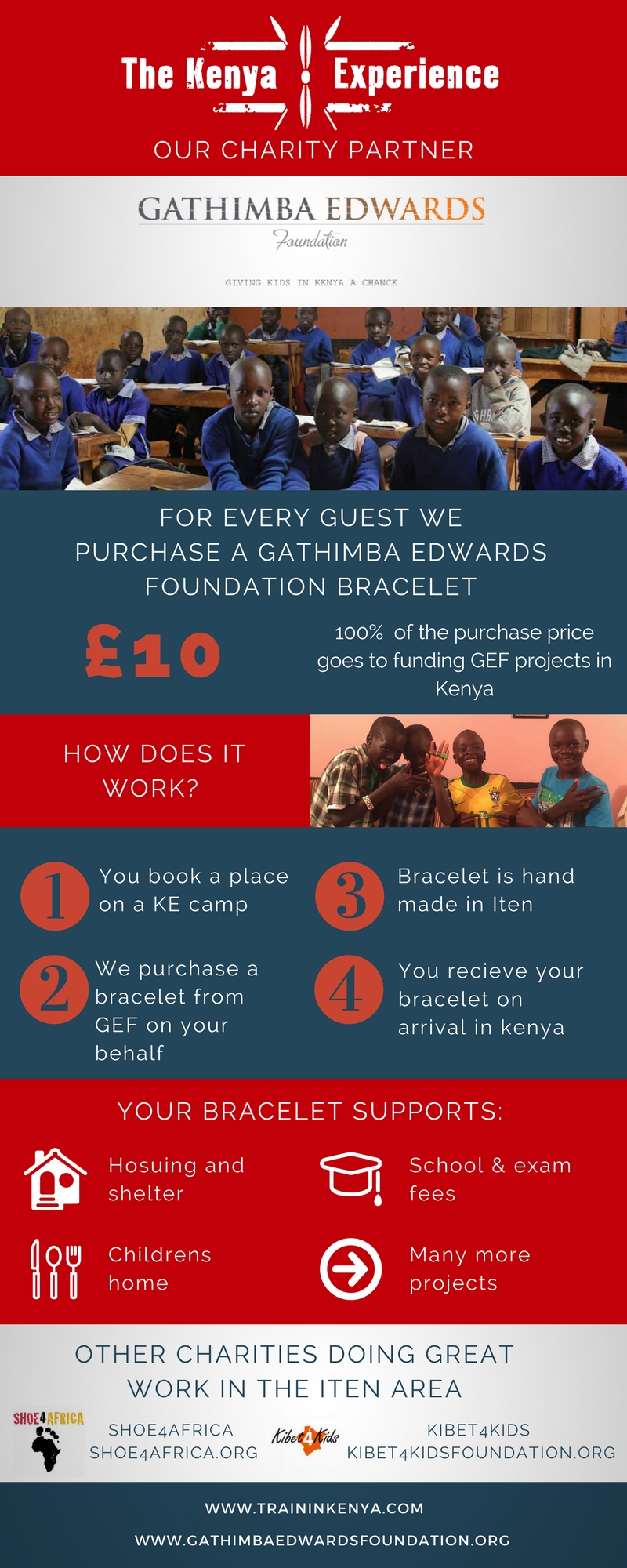 Our Guidelines for Guests Visiting Iten:
Respect Local Runners
Local runners are not tourist attractions, please respect them at all times and especially when they are training. We facilitate opportunities for you to observe Kenyan runners training but it is important that we do not interfere or distract athletes.
Respect the Local Community
As with the runners, other members of the local community are also not tourist attractions and this includes the local children. When we are walking past local schools please do not distract the children who are in class.
Be Respectful with your Camera
If you wish to take photos in Iten please ensure you are not intrusive and do not interfere with athletes training.
Consider the Implications of Giving Sweets to Local Kids
Friendly local children are a highlight for many visitors and many wish to give them sweets; Please bear in mind that their is limited access to dental care! Our suggestion is to give a pencil and paper instead of sweets.
Contact Us
Please email us with any questions
Visit our booking page to book your place