The Kenya Experience Coaching Announcement
Head Coach Hugo van den Broek + Assistant Coach Collins Kibet
The Kenya Experience are delighted to announce that Hugo van den Broek will join our team as Head Coach with immediate effect. Hugo will work across all our programs in Iten including our flagship 'The Kenya Experience' camps as well as our brand new 'Training Focused Weeks' and race experiences both of which will commence in 2019.
Hugo has been a part of The Kenya Experience set up in various capacities for a number of years having previously worked in a management and organisational capacity.  He has also been a frequent guest speaker and guest coach during our camps and we are delighted to have now recruited Hugo as our Head Coach going forward.
With a background as an international athlete, Hugo has a 2hr 12 marathon PB and is a highly sought after coach both in Iten and internationally. With the addition of his decade of residence in Iten, Hugo has the perfect platform from which to inspire, guide and support our visiting runners from across the world.
As part of our continued drive to provide world class experiences for visiting runners as well as develop and inspire the community who welcome us, Hugo will also be responsible for developing and mentoring the next generation of Kenyan coaches. Accordingly, we can also announce that Collins Kibet will be the first coach to take up the new role of Assistant Coach under van den Broek's guidance.
Both will commence their roles with immediate effect, with the first group to benefit from their collective coaching knowledge being our special edition Running with the Kenyans camp in July 2018.
Kenya Experience founder Gavin Smith:
When we began the search to recruit a new full time coach there was one name immediately at thew top of our list, and we couldn't be happier that Hugo accepted the job with such enthusiasm.
Our track record demonstrates that we are already offering a fantastic experience for runners, and now we want to take things to the next level. We identified that in order to do that we had to further improve the quality of coaching and Hugo is absolutely the right man to lead us into an exciting new era at Kenya Experience.
With (Willy) Songok continuing his role as Head of Guest Relations and Hugo now leading on coaching, I believe you would be hard pressed to find a better team to guide runners through training camps anywhere in the world.
That is an exciting prospect, and we are looking forward to making Kenya an accessible training destination for more and more runners and believe that in Hugo we now have the ideal coach to do so.
We also recognise the importance of developing local coaches and it is important that as well as employing Hugo, a coach of great experience and international reputation, that we also use this opportunity to bring Collins into our team as Assistant Coach with a focus on his own development and learning under Coach Hugo.  Collins' infectious attitude and enthusiasm as well as his own outstanding athletic credentials make him the ideal candidate for this role and we look forward to watching him grow as a coach and the inevitable positive effect this will have on our groups in Iten."
Myles Edwards Kenya Experience Director:
"Hugo's credentials speak for themselves and I look forward to working alongside and learning from him in Iten. As a company we pride ourselves on providing runners with the highest standards of coaching and the most authentic experience of Kenyan running. Hugo is the perfect man to provide this with years of experience of coaching, living and running in Iten.
Collins has run 1:47 for 800m and recently graduated from the University of Arizona, we are delighted to be able to bring him into our team and help him to develop his coaching talents."
Alongside his work at Kenya Experience, van den Broek will continue in his role as Head Coach of the Indian Elite Distance Running Project. This sees him identify, recruit and coach the most promising young Indian athletes with the objective of qualifying athletes for future Olympic Games.
Hugo also has a track record of working with elite Kenyan athletes, most notably, Hugo was the coach behind Gladys Chesir's 30:41 2017 World Lead in the 10k.
Hugo said: "I'm immensely proud of the work I do with EDRP in India, and combining this with Kenya Experience allows me to work on both sides of my passion; Developing athletes over the long term to an elite international level, and working with enthusiastic runners of all levels in Iten. Although the camps in Iten are usually for a few weeks only, there is so much we can do to improve a runner in that time. I'm really looking forward to getting started in July."
——————————————————————————————————————————————————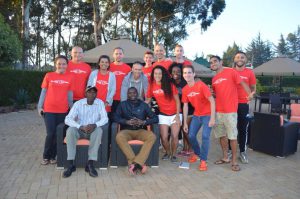 Our running camps provide an inspirational location, expert coaching and a supportive group environment for runners of all levels.With an emphasis on 'doing it the Kenyan way' the camps include guided runs, practical workshops and an exciting itinerary outside of the actual training itself which will immerse you inside the Kenyan running scene. You will meet and learn from top Kenyan runners & coaches and interact with the local community in Iten under the guidance of our expert staff.Want to know more? Click here for details on our training camps