[Train the Kenyan Way Blog Series]
Fartlek Running:
Most runners, from elite athletes to casual joggers have heard of fartlek running in some sense. If you haven't done any fartlek training before you've probably heard it mentioned by training partners or coaches and the likelihood is you've heard someone say "did you know fartlek is Swedish for speed play"…  If you didn't know that, then there's a cool fact you can use to impress no-one this Monday morning – With terms like 'fartlek amongst our vocabulary it really is no wonder competitive running is a such a fashionable sport!
There are several different definitions of fartlek running and it can be used to achieve different end goals and even across different sports. But it stays true to its original Swedish meaning, it is 'speed play', a game of varying pace running.
What is a Fartlek?
A continuous run of a (usually) predetermined duration in which the speed of running varies.  A football player might do a fartlek session of 20 minutes of running interspersed with various sprints and accelerations to simultaneously improve speed and fitness while a distance runner might do something more like 50-60minutes of running combining the basic easy pace and a series of 'pick ups'. The pick ups or fast sections varying between one and four minutes in length. Clearly these two example workouts achieve very different outcomes but both are still classed as 'fartlek training'.
As we are endurance runners let's focus on what fartlek training can do to improve our running and how Kenyan runners train using fartlek.
Iten Thursday Fartlek:
Perhaps you have seen pictures or videos of hundreds of Kenyan athletes gathering at 'tyre mbili' (means 'two tyres' in Swahili – there are literally two tyres in a drive way near the start of the main fartlek route) and taking to the dirt trails for the weekly famed Iten Thursday Fartlek workout?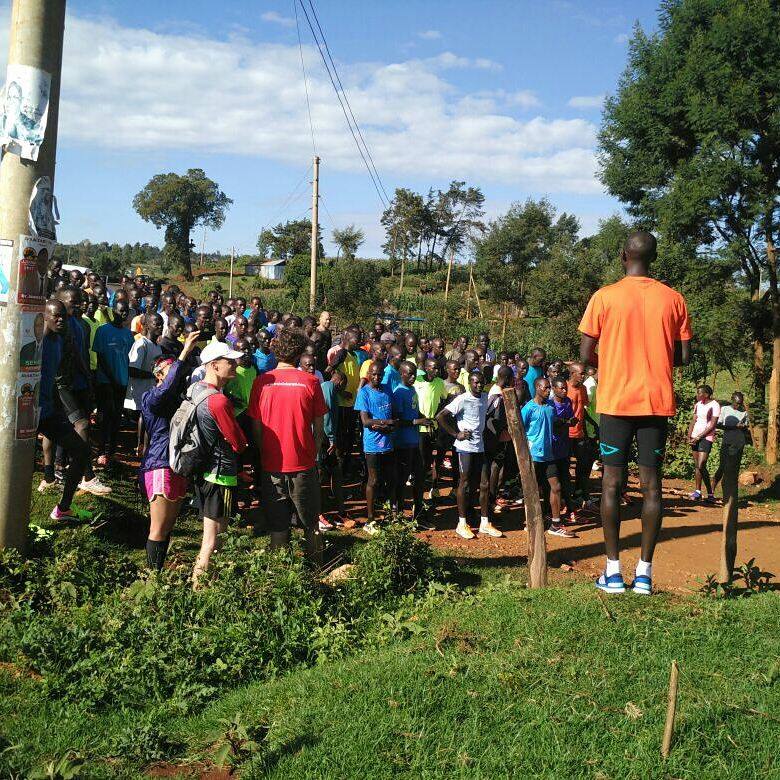 (Wilson Kipsang in orange stands atop the bank at the side of the road at 'Tyre Mbili' and gives pre-workout instructions)
Every Thursday morning at 8.40am a couple of hundred men and women jog down the side of the tarmac road to 'tyre mbili' about 5km out from Iten town ready to start at 9am sharp. The session is decided by the group leader, often Wilson Kipsang or someone of a similar ilk, who will announce the session on the start line. Typically the session will be either 3 mins hard 1 easy (3/1), two minutes hard one minute easy (2/1) or one minute hard one minute easy (1/1).  Occasionally, after a bit of debate, they'll decide to mix it up, and something longer like 5/2 isn't uncommon. The athletes set their countdown timers on their watches accordingly and off they go. About half of the group will do a 15km loop which takes them around 50mins to an hour, while many will stop at the turning point cutting it short to about 8km.
The basic idea is to run fast on the hard then attempt to recover during the 'off' or 'easy' minute whilst still maintaining a continuous run – there is no walking or stopping in a fartlek. 
The benefits of Fartlek
There are several benefits to be had from this type of workout (and even more so in Iten.) Taking the Iten Thursday Fartlek specifically, anyone, regardless of ability, age or experience is free and encouraged to join in. You can line up alongside a World Marathon Majors winner, an Olympic or World Championship medalist and a plethora of international Kenyan runners and tackle the same workout as them. Quite literally following in the footsteps they leave in the red dust. If you remain disciplined and complete the workout correctly you'll achieve the same benefit as the elite athletes at the front. Secondly, the rolling hills and terrain add a second dimension of uncertainty which increases the mental challenge. Any follower of Kenyan running would do well to consider the words of Eliud Kipchoge at this point in time:
"If you don't rule your mind, your mind will rule you" (Eliud Kipchoge)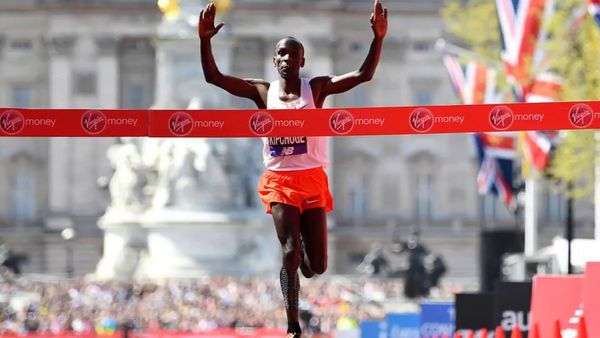 (Eliud Kipchoge, here winning 2018 London Marathon, uses fartlek in training)
You're never really sure where your next effort will start, you can only hope it's not at the bottom of a hill and if it is, well, you've just got to go for it!
Fartleks are a great way to get a hard and beneficial workout without the mental stress of interval sessions where everything is measured precisely. Simply pick an enjoyable route, ideally in a natural setting, and run to the beep of the watch. Re-learn the seemingly vanishing skill of listening to your body. Judge your effort according to the signals your body is giving you, rather than by what the watch on your wrist is telling you.
For many of the Kenyan runners in Iten, fartlek training is maintained in their regime year round.  But they're particularly useful during the 'off season' when you are building your background fitness. In general, fartlek training combines the physiological benefits of track repeats and tempo runs, so it is often used as a way of developing speed and strength without the pressure of hitting times and splits before the race season gets underway. This goes hand in hand with the Kenyan philosophy that "you should run to how you feel". During these fartleks there are no splits to hit, no-one to beat, no coach stood with a stop-watch, it's just you vs yourself. You have to be in control of your body, tough in the mind and strong on the hills. Then when the specific build-up to a race begins, these traits can be transferred onto the track or the road ready for a bit of fine-tuning ahead of a peak performance. 
The Importance of the recovery
Many coaches believe the key to successful fartlek running is in the recovery segment. Rather than putting all your effort into the fast sections and struggling through a very slow recovery, you are better advised to control the fast section and maintain a better pace on the recoveries. Thus creating a session that is more akin to a hybrid tempo/interval session as opposed to simply moving your intervals off the track. This is when you will really start to see your endurance take a positive turn.
---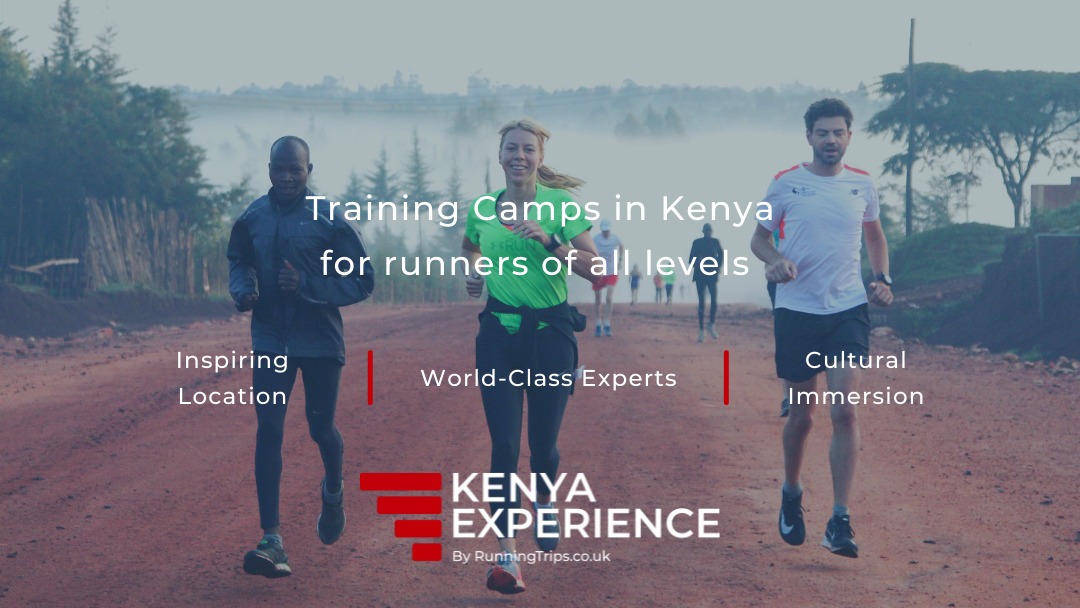 ---
Renato Canova and 'Specific Fartlek' training
Famed Iten based Coach Renato Canova, is one such man who likes his athletes to maintain a strong pace on the 'off' section during fartlek training. Canova prefers that the athletes think of a fartlek as a fluctuation between faster and slower, rather than a big jump from very fast to very slow.
This way, you teach your body to recover whilst running at a fast pace. You increase lactate levels during the fast segments, then your body must clear the lactate during the recovery segments in order to be ready to go hard again for the next fast effort. The idea is that you are teaching (forcing!) your body to clear lactate at a faster pace, which will transfer to race day thus allowing you to race faster.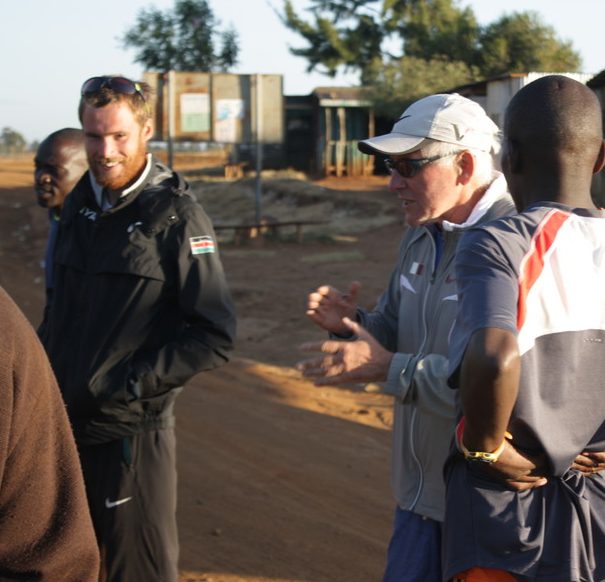 (Canova (in white cap) gives pre-workout instructions as co-author Gavin Smith (black jacket) listens in)
Canova uses basic fartlek such as the 1'/1' or 2'/1' examples we gave earlier, in the build-up phases of training, or where he believes his athletes need some hard speed work but without the psychological stresses of hitting splits in an interval session on the track. He then uses what he terms as 'Specific Fartlek' in the preparation for important races.
This is a type of fartlek where his athletes will alternate periods of running at target race pace with a 'fast recovery' between.
A particularly impressive example of this style of training was witnessed by Gavin during his time as Canova's Assistant Coach in the build-up to the 2012 Olympic Games. Double World Champion in the Marathon Abel Kirui was preparing to attempt to add the Olympic crown to his resume (he went on to finish 2nd behind the Ugandan Stephen Kiprotich) and performed the following 'Specific Fartlek' workout during the build-up: 4x 6k/1k
Or, 4 sets of 6km fast with a 1km recovery.
A 27km continuous run where he alternated 6km at marathon race pace (rather, adapted marathon race pace considering the 7500ft of altitude plus hilly dirt roads) with a 1km recovery between them at approx 25-30seconds slower than marathon effort.
Kirui had a team of pacers with him through the first half of the workout which was run at just outside 3minute kilometres for the fast 6kms and around 3:30 for the recoveries. On the third and final recovery, Kirui dropped a 3:20 (and dropped any remaining training partners) before finishing the final 6km with some sub 3minute clockings.
Canova's theory is that during the 'recovery' the body becomes better adapted to removing lactic acid whilst moving at fast speeds. This is a particularly important mechanism for all 5k-half marathon runners regardless of actual race speed.
So whether it is a basic 1'/1' fartlek or a Canova special 'Specific Fartlek', if you want to run the Kenyan way you better start incorporating this style of running into your training right away.
Check back in later this week for our handy 'How to Fartlek Guide' with some key tips and example sessions you can try out for yourself.
——————————————————————————————————————————————————
About the Author:
This article was written by Callum Jones with editing and additional input from Gavin Smith.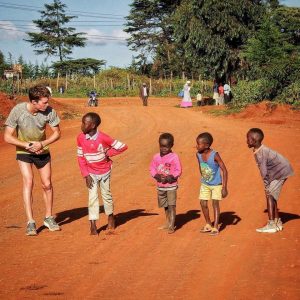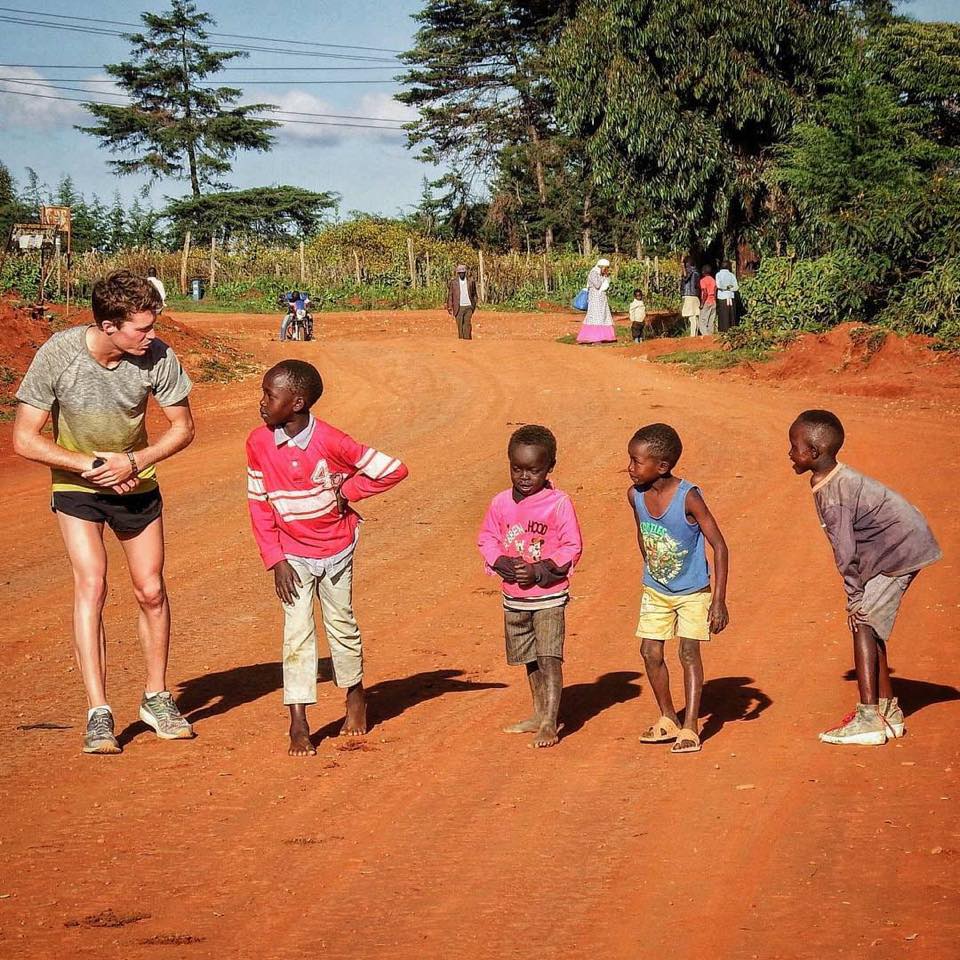 Callum Jones is an engineering master's graduate of the University of Bristol and middle distance runner who has spent long periods of time training in Kenya.  He began working for The Kenya Experience in October 2017 while on a training camp in Iten. 
"I've been an aspiring distance runner for the last 10 years and worked hard to improve my times year after year.  Training in Iten was an incredible experience for me, it really took my running and love for the sport to a new level and opened my eyes to a whole new mentality towards training. Working for The Kenya Experience is fantastic as I can offer my knowledge of the sport and insight into the Kenyan running culture with all our guests!"
---
The Kenya Experience – Running Camps in Iten Kenya for all runners
Our running camps provide an inspirational location, expert coaching and a supportive group environment for runners of all levels.
With an emphasis on 'doing it the Kenyan way' the camps include guided runs, practical workshops and an exciting itinerary outside of the actual training itself which will immerse you inside the Kenyan running scene. You will meet and learn from top Kenyan runners & coaches and interact with the local community in Iten under the guidance of our expert staff.
Want to know more? Click here for details on our training camps