(Title Photo c/o IAAF Website)
On Saturday 1st April 2017 reports emerged from Prague that a relatively unknown Kenyan runner had just become the first women to run a half marathon in under 65minutes. Not only that, but she had also broken the 10k, 15k and 20km records en-route. Breaking a 20km record on the way to a 21.1km record is no big surprise and maybe neither is a 15km record – after all, how often do the worlds top runners go all out over 15km, very rarely. However, the 10km and the half records in the same race is unheard of.
The performance was so shocking to some that given the date, it was seen as quite literally unbelievable, with early replies on social media calling it out as an April fools day prank. But this was no joke, Jepkosgei really did clock 1:04:52 to win the Prague Half Marathon, and with the split times at 5, 10, 15 and 20km also being measured to IAAF international standards her intermediary world records are legitimate as well.
As someone who follows Kenyan running closely I vaguely recognised the name Joyciline Jepkosgei from the African Championships (She finished 3rd in the 10000m) and the recent HM world record in the RAK half in February where she also finished 3rd behind the then world record of Peres Chepchirchir and world star Mary Keitany having run with the first 2 throughout the race.
However, I must admit that I knew very little about her. It didn't take long to pick up on the fact that she was part of the 'RunCzech' Racing Team managed by Ikiaka Sports. As one of the more forward thinking athlete management companies it was easy to find some basic information on the new world record holder: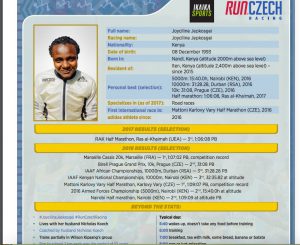 Her training has since been discussed in this excellent interview in Sports Illustrated.
https://www.si.com/edge/2017/04/05/joyciline-jepkosgei-half-marathon-world-record-training-coach-nicholas-koech
Essentially, it is a good solid half marathon training program. Mixing short intervals, long intervals, fast continuous 'tempo' runs, high paced long runs, and easy and medium paced running in between. It looks great, and about what you would expect for an elite level endurance athlete, but it's nothing earth shattering.
So what is going on? The world record over the half has been beaten numerous times in recent years. Twice in consecutive years by Florence Kiplagat, on a course not previously considered to be a fast course in Barcelona; It was broken again in RAK Half Marathon in February and then the women who was 3rd in that race takes it into new territory this past weekend and immediately talks of going faster still.
Add in that the world records on the track in women's distance events have been tumbling and it all leads to the question of what is currently going on in women's distance running?
Unfortunately, we cannot ignore the drug question and given the news coming out of Kenya just in the last 24hours of Jemima Sumgong failing a test for EPO, cheating via drug use is obviously an issue which is ongoing. However, I do not believe that drug use alone can explain the recent boom in women's running times. Unless we are to assume that drug use is brand new and now used across the board there is surely something else going on as well? After all, EPO has been used by rogue endurance athletes since the 1990's.
I have a different theory as to what we are currently witnessing in women's running and it is much rosier and less murky than the world of performance enhancing drugs. In fact, it highlights a wider reaching positive issue that transcends sport itself, and it is the improving living standard and developing opportunities of women in East African cultures.
This is not my area of expertise, and many people have and are studying this issue in far greater depth than a blog on Kenyan running could ever reasonably expect to.  In any case, from an observational perspective it is clear to me.
What I believe we are witnessing is the early stages of a 'catching up' process, and that spells bad news for elite female distance runners of the Western world. It is not that the women's records are exploding into an entirely unprecedented level (relative to men's) they are in fact catching up with the level of the men's records and this is just the beginning.
Whilst I cannot rule out foul play by any individual I do not believe it can explain the wider trend and I also do not believe that the trend itself is unexplainable without doping.
Jepkosgei herself gives an ideal glimpse into the wider phenomenon which is occurring and it is essentially an issue of opportunities. The best runners in the world continue to originate from the East African nations of the Great Rift Valley, this is not changing. But what is changing (albeit slowly) is the role of women within the family unit in the cultures populating these areas including the 'running tribe' of the Kalenjin people of Western Kenya and Eastern Uganda.
Traditionally, women have been the home makers and the men the bread winners. This afforded few opportunities for women to pursue competitive sports. It is a common scenario in Iten and other running areas where a husband and wife combination are both athletes that regardless of the talent and earning potential of the respective partners, the male is given priority on training time and recovery opportunities between training. The women is expected to train part time around her family and household duties (which is hard work in rural Africa!).
In the past decade we saw the emergence of some high profile couples who bucked this trend such as Edna Kiplagat and husband Gilbert Koech. Koech was an athlete himself of moderate success but came to realise that his best opportunity to provide for his family was to support his wife's running and he became her pace maker and coach also helping to look after the young family and perform chores, thus allowing Edna to rest and recover between hard training sessions. This was a bold move amongst a community which was not used to this kind of progressive attitude.
As the years have gone by this approach has become more commonplace; It is not unusual to see star Kenyan athletes being paced by their husbands in workouts in Iten. Mary Keitany, Joyce Chepkurui and Helah Kiprop all being examples of top level Kenyan athletes with husbands who are also athletes but have abandoned their own training in favour of supporting their spouses careers.  Joyciline Jepkosgei appears to the latest addition to this club with her husband Nicholas Koech her coach and pacer.
This a new model of success which is being adopted more and more frequently each year and is now paying dividends.
So, if this is not an entirely new phenomena then why do I account it as the predominant factor in the tumbling of world records which looks set to continue into the foreseeable future?
Put quite simply it's a numbers game.
Kenyan running on the men's side is already a numbers game – throw thousands of young men who are potentially good runners into the production line and those with the correct combination of talent, application and mentality will rise to the top and become stars. Hundreds upon hundreds enter this 'system' every year and have done for decades. The chances of a top talent being missed are very slim.
On the women's side it is a different story. The only athletes entering into the pathway in the first place are those afforded the opportunity under the circumstances discussed above. The chances of a top talent slipping through the net are so high as to make it the most likely outcome. What are the chances of the most talented athlete marrying the most forward thinking husband and the two unlikely scenario's colliding? Probably slim.
How many potential world record holders have wasted their best training years cooking and cleaning so that less talented husbands could pursue their own fruitless dreams?
Let's consider for a moment the British runner Paula Radcliffe who was the previous record holder for the 10k on the road. She was known for her 100%, no stone left unturned approach to distance running. Every aspect of her lifestyle, diet and training was meticulously planned and executed in order to maximise her athletic performance.
My belief is that more talented runners than Paula Radcliffe are now catching up with her in terms of lifestyle and application to training. Therefore the balance of talent + opportunity + application is starting to tip in the favour of the African women versus Paula and other stand out Western runners. Therefore, we are now seeing times on a regular basis which were previously once in a generation type performances.
Maybe I have just insulted some Paula Radcliffe fans out there by saying that she is not the most talented runner of all time.  I see it as a compliment that her attitude and hard work made her the best that had ever lived, despite others having more natural ability or a childhood and upbringing which was more suited to elite endurance performance in later life.
Most accept that someone like Kenenisa Bekele or Eliud Kipchoge is more talented than the best ever Western runner on the men's side and I find it hard to believe that a similar situation doesn't exist on the women's side as well. As the numbers of female runners in Africa with the opportunity to train at the highest level continues to grow the times may well continue to tumble. Maybe the most talented African athletes are still out there waiting for the opportunity to train seriously?
The acid test may come in the marathon where Paula Radcliffe is still minutes ahead of what the current stars are running, but with a plethora of athletes now running comparable times and faster over the half distance I wonder if that record will also come under attack over the coming years.