Kenyan Running Analysis – Why it's better to be good on the roads than great on the track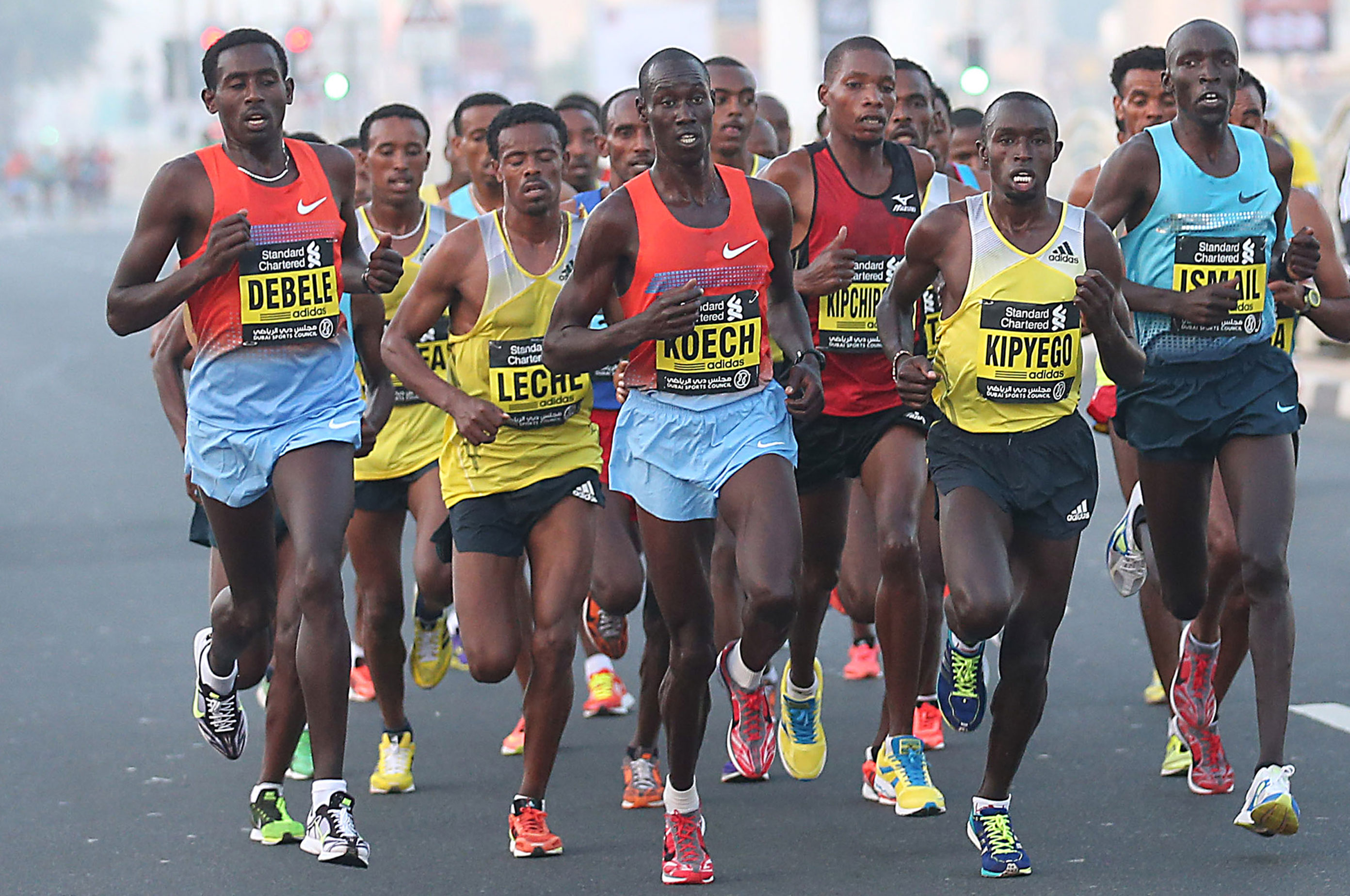 Being a good marathon runner is a better option than being a great track runner
I've no doubt that a certain Mo Farah would strongly disagree with the above statement but this blog isn't about well paid and well supported western runners its about (mainly) Kenyan runners and if we look at the evidence then I think the statement holds up to scrutiny.
First things first – what do I mean by 'a better option'? Put simply I mean from a financial perspective. The infrastructure and organisation of marathon running across the globe supports a far greater number of professional athletes than track distance currently running does; Speaking in generalities it pays both deeper and higher at all levels than track running.
The financial rewards available goes a long way to explaining why African road running is so deep these days and African track running at 5000 and 10000m is relatively weak in comparison to earlier era's.
The only real opportunity to make money on the track is in the Diamond League series and the major world events (Olympics/World Champs) and even this is slim pickings by elite sport standards.
Win a highly competitive Diamond League event and you receive $10,000, not bad I suppose, and you get numerous opportunities throughout the season. But drop down to even 5th in a highly competitive Diamond League event and that prize money drops to $2500, 8th brings you $1000 and any less than that and you go home empty handed or even out of pocket depending on travel allowances and appearance fees (which are not generous to Kenyan distance runners)
Assume that a diamond league distance race has 16-18 competitors, maybe 7-8 at most could be Kenyans (regardless of how many could be in the race if fields were set purely on merit but that's another issue for another day) and we are looking at very few runners who even have the opportunity to try and compete for the small prize pot.
If you are outside of the diamond league structure you are competing for pocket money to pay your way to the next race rather to earn a living.
As a comparison here are some figures from the Standard Chartered Singapore Marathon – far from a major or prestigious event, in fact let's be honest (and I apologise to the race organisers and Singaporean people for saying so) – it's not a major event at all, it's a C or D level marathon at best – for anyone who disagrees I challenge you to tell me one athlete who has even competed there let alone won without looking it up first.
The winner of this event will pick up S$50,000 (approx 37,000USD) 5th place S$7000 which is more than double what 5th place in a diamond league 5000m race will earn.
5th place in the 2015 Singapore Marathon was Kenyan by the name of Paul Matheke. I've never heard of Paul, but with a 2hr 12 Marathon personal best I will go out on a limb and say that he would be lapped over 10000m (at least once) by any athlete capable of finishing 5th in a Diamond League 5 or 10k.
These are not cherry picked stats – The Singapore Marathon was picked at random as the first one that popped into my head, I didn't search for hours for a well paying lower quality event. Money like that available at Singapore will be replicated across of dozens of marathons each season.
I think that this is a strong indicator of why there are very many more Kenyan athletes training and competing over the longer road races. Of course some of the very best Kenyans still ply their trade on the track. Take Geoffrey Kamworor or Paul Tanui as examples in the longer events or the plethora of steeplechasers many of whom may well be good marathoners as well, not to mention current marathon star Eliud Kipchoge who had a full track career in advance of turning his attention to the roads. But for every example of a Kenyan track runner there are multitudes more focussing on the roads. 
As we already know, the Kenyan's strength is in their depth. If Kamworor is not on top form then the next best is considerable slower than he is, if Wilson Kipsang is not at his best then someone else will seamlessly slip into his place at the same level.  I'm not saying that the very best Kenyan track runners are not at the same level as the very best road runners but the strength in depth is far far weaker and that makes the task for those trying to beat them all the harder on the roads and all the easier on the track. It has been said that although Mo Farah is without question a truly incredible distance runner, he has dominated one of the weakest era'a of distance track running in some time.
It would unfair to consider the Kenyan's as greedy or mercenaries for picking the financial rewards of obscure roads races over trying to attain the fastest times they can on the track, it simply highlights that running is a career in Kenya rather than a hobby. My experience in Kenya has showed me that most runners enjoy their jobs, some of them even love their job, but make no mistake this is a job and they will continue to follow the money.
If the marathon money drys up or goes elsewhere then expect the Kenyan runners to follow suit. If trail running or mountain running or ultra running sees mega bucks prize money introduced then don't expect it to take too long until those events are also dominated by runners from Kenya.
A specific example of a Kenyan making the decision that a good career on the roads is better than a great career track may be evident when looking at Geoffrey Kirui. Who? you may ask. The man who finished 6th in this years Amsterdam Marathon in 2hr 06:27 (in what was, I believe, his full debut at the event) was touted as a future star on the track when back in 2011 he ran a phenomenal 26:55 for 10000m as a teenager. He seemed destined to become the next great Kenyan 10000m runner.  However, after taking a somewhat disappointing Bronze medal at the following years World Junior Championships he quickly gravitated to the roads where he has a string of stella if not world class performances to his name along side a number of pace making duties for World Marathon Majors (which can also better paying than competing on the track).  Medal's and Kenyan National Team appearances have not come his way as they may have done if he had stuck to the track, but I suspect that his bank balance and family's security is in a significantly better position following a few years on the roads than it would have been following the diamond league circuit on the track.
Thanks for reading
Gavin