Note:  My brain went off on some tangents as I was writing this blog and I decided to split it into 2 parts.  This is part 1 and focuses predominantly on Kenenisa Bekele and a new project he is involved with called "Sub2hrs", part 2 will focus on Wilson Kipsang and how his approach to marathon preparations differs from Kenenisa's
An observational comparison of the preparation of Kenenisa Bekele and Wilson Kipsang
Watching the final stages of the magnificent Berlin Marathon last weekend as two of the worlds best runners over the past 10 years went toe to toe in what would become the 2nd fastest marathon of all time, I knew what the topic of my next blog should be.
I didn't want to rehash another play by play of the race itself, I hope that most people saw it for themselves, and even if not then there are already a number of excellent race recaps and more detailed play by plays with splits and detailed analysis of the race itself.
If you want a detailed look at how the race was run, won and lost then have a look at Alberto Stretti's great facebook blog post here and the Letsrun recap here.
Having had a good moan last time out about the lack of information publicly available on the top African runners, I thought I should take the opportunity to do something about it share some training and other information about Wilson Kipsang myself.
In doing so I can also share some more details about Sundays race winner the legendary Kenenisa Bekele of Ethiopia and how it differs from Wilsons.
Watching the race I found myself mentally noting the various rivals which were playing out on the streets of Berlin once the race was down to the two main protagonists. There were the obvious ones, Bekele v Kipsang; Ethiopia v Kenya, Nike v Adidas. Then a few more which maybe would go unnoticed by the casual fan; Global Sports Communication (Bekele's management team) v Volare Sports (Kipsang's team)
I then also wondered if this was also a battle of the scientific approach v the 'simple' approach, or at least the approach that we more commonly see with African distance runners.
Given that both runners hail from the great running continent, what do I mean by that?
In recent years a new project has taken wings led by a British Scientist called Yanis Pitsiladis alongside Hermans and his GSC team. The project's goal is simple yet ambitious beyond measure. The project is called 'Sub2hrs'  and describes itself as:
"The first dedicated international research initiative made up of specialist multidisciplinary scientists from academia, elite athletes and strategic industry partners." with the specific goal of attaining the first sub 2hour marathon. The team behind this say that it is not a matter of if it happens, but when.
Some great background reading on the details of the project can be found in this lengthy 2part New York Times piece here
Not everyone has been impressed by the early work of the project and Michael Crawley, a British research scientist currently studying African runners in Ethiopia asked "The Two Hour Marathon: Who is it for?" in this piece  which questions the motivations of those involved and whether the project adds value to the African runners at the heart of the research themselves.
Despite critique from some corners of the running and scientific community, what cannot be questioned is the calibre of athlete already recruited to the team.  As seen above Kenenisa Bekele is already deeply ingrained in the project and it has recently emerged that two other runners who will be familiar to fans of Kenyan running are also part of the project; namely Jake and Zane Robertson of New Zealand.
Jake and Zane have spent the best part of the last decade training in Africa, predominantly in Iten but in recent years Zane has moved his training base to Addis Ababa and Jake now seems to be spending more time in the Ethiopian capital as well.
The brothers have already attained some impressive results on the international stage after adopting the African approach to training and lifestyle and this has been well documented in interviews, documentaries and articles already so I won't dwell on the background of their remarkable story here for too long. 
Zane, whilst training with very little support (not even a kit sponsor for most of his career) ran a fantastic sub 1hour Half Marathon in Japan a few years back and Jake has seemed poised to follow suit with similar performances but for injury setbacks in recent years.
The first hint that Jake was involved in the Sub2hr project was the below photo which was posted on his Instagram account this summer and shows him running in Eastbourne in the UK (where Pitsiladis works as a Sports Scientist at Brighton University) and was tagged with #sub2hrs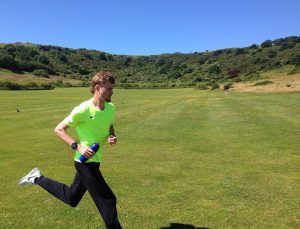 Further social media images from both brothers show them training together in Ethiopia alongside a larger group of athletes and their comments make it clear that they are part of Pitsiladis' project.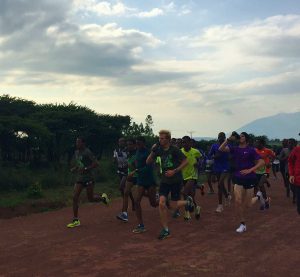 I've seen another post from Zane which I can't find right now which says that the larger group they train with   (coached by Gemedu Dedefo) is not part of the project and the current athletes of Sub2hrs are Kenenisa, himself and his brother but I can't find the exact post to confirm that right now. 
Despite the openness of Pitsiladis to discuss (promote) the project in general there are not too many details out there at the moment of exactly what they are doing or what support the athletes involved are receiving. We also don't know whether the current athletes are seen as the potential sub 2hour runners themselves or if they are the research subjects to see what works and what doesn't (not bad research subjects eh?), and the younger runners being ID'd in rural Ethiopia (See NYT article linked earlier) are those that they actually have in mind for the sub 2 hour performance itself.)
Either way, there must be some scientists and research groups out there wishing they had access to a group of test subjects like this. The man many now argue is the greatest distance runner of all time, plus one of only 4 men born outside of Africa who have run under 60minutes for the half marathom (Zane is 3rd on that sub-list of all timers born outside of Africa behind Marlison Dos Santos of Brazil and Ryan Hall of the USA) – a very elite group of men indeed.
The images shared by the Robertson brothers seems to suggest that the project is offering sports science support to the athletes within their current set ups rather than a full coaching program although the New York Times piece linked to above suggested that Pitsiladis is heavily involved in the day to day training of Kenenisa.
The prospect of seeing what athletes such as Jake and Zane Robertson can achieve with a full support team behind them rather than the solo/unsupported approach they have used up to this point is very exciting.  I don't know the ins and outs of what is being provided but I would assume that it is a full sports science support package –  nutrition, physiological testing, sports therapy (Massage/physio etc), strength conditioning coaching, psychology and the like. The types of things that African runners have typically either avoided or simply not had access to.
These are all the things you would expect to see amongst the training programs and lifestyles of top end elite sports performers, and are no doubt the norm amongst professional sports teams the world over. In distance running, were funding is in drastically short supply it is reserved for the 'lucky few' and well funded groups such as the Nike supported Oregon Project based out of Portland Oregon.
All we do know for now is that they are testing a new sports drink and both the photos above have Jake and Zane drinking on the run and referencing as much in the comments. As it happens Pitsiladis has told us on twitter that he will be revealing details on what Bekele was drinking in Berlin (during the race not in the bar that evening) at right around the same time as this blog comes out. The tweet read:
"So to see what Bekele was using in Berlin check out the Sub2Hrs Website later today!" So keep and eye out here for that info.
The prospect of seeing what happens when you combine African style training with Western style scientific support is an intriguing one. I can't think of any athletes better placed to test this than 2 men who have lived and trained 'The Kenyan way' for years already and attained high level performances whilst doing so. The question now is can this new approach take them to higher levels of performance and can they put themselves at the forefront of the chase for the 2hour marathon?
For Kenenisa, this seems to spark the next chapter of a quite remarkable story. From winning the world cross country junior race and then medalling in the senior race on the same weekend, to his 5 consecutive long course XC wins, his multiple world record and gold medal winning performances on the track, and now as a serious contender to be the next Marathon world record holder.
Whether this rejuvenation in Bekele is specifically down to the scientific interventions of Pitsiladis, a period of injury free training or just a natural fluctuation in an elite athletes career (it's very difficult to be at your absolute best for 15years continuously!) is hard to tell but one thing is for sure, that is that Bekele is back and that should excite athletics fans the world over.
Next time around, we will have a more detailed look at the man Bekele beat into second place in Berlin last week, Kenya's Wilson Kipsang.
Thanks for reading, 
Gavin