London Marathon Preview: Men's elite race 
It's that time of year again when the running world turns it's attentions to London for the greatest marathon on Earth (sorry New York, but we still think that's true). At least it is true in the highlands of Kenya where many of the top contenders to win the race on both the men's and women's side hail from.
If you ask a selection of the plethora of runners in towns like Iten, which is the race they would dream to win if they could win any, and London Marathon will be the answer more often than not. The Olympics is big, of course, New York, Chicago, Berlin are all fantastic races as well, but this is the big one.  Only the very best even get an invite and once you are here the competition is beyond fierce.
It seems that every year this race is touted as 'The best field ever'. In fact it's a tag which has been bandied around almost nonchalantly when it comes to London Marathon elite fields and not without good reason. Every year the organisers bring together so many World Record Holders, Olympic Champions and other stars that it makes the 'Greatest Field Ever' title almost inevitable. So with no world record holders or Olympic champions (at the marathon distance) in either men's or women's fields, that title has been almost conspicuous in its absence this year.
Don't get us wrong, both men's and women's fields are exceptional, and there is plenty to be excited about ahead of Sundays showdown. However, for perhaps the first time since the turn of the century the London Marathon risks being over shadowed by another event, and talk is as much about who is not here as who is. The eagle eyed amongst you will notice that I said another event rather than another race; I am of course referring to Nike's highly publicised Breaking2 event, now scheduled for May where the star attraction will be Kenya's Olympic Champion Eliud Kipchoge.
As the defending champion, who has won the Olympic Games since winning in London last April, Kipchoge would, under any other circumstances be a lock in to highlight the men's field for this years event.  For the London Marathon organisers he would have been in the 'at any cost' bracket. I don't think that any one other than Nike would have had the power and influence (or budget) to take Eliud Kipchoge away from this years London Marathon.
Add in that last years second placed finisher Stanley Biwott has dropped out with injury and the race has undoubtedly lost a little of it's star appeal. However, whilst Kipchoge's absence is a huge loss to the race, it also represents an opportunity for the other men in the field. Kipchoge has been almost unstoppable over the marathon since his career moved in that direction, and if he were in London then it would be difficult to look beyond him for the win. That leaves the door open for someone else to step up to the mark and lay their challenge as Kipchoge's main contender for the crown of worlds greatest marathon runner.
Let's have a look at a few of the key contenders:
Kenenisa Bekele, Ethiopia
The man who many believe to be the greatest distance runner of all time returns to the venue where his career was resurrected 12months earlier. After a long absence from top level performance Bekele was unfavored going in to London Marathon in 2016 so when he finished 3rd behind Kipchoge's dominant performance and an excellent run from Stanley Biwott in 2nd, it became obvious that Bekele's career was not done yet.
When in the weeks and months that followed, reports emerged from insiders within the Bekele camp that his race had been completed with the bare minimum of training and in far from ideal circumstances more than a few eyebrows were raised as to the potential that Bekele still possessed.
https://www.nytimes.com/2016/05/16/sports/two-hour-marathon-kenenisa-bekele.html?_r=0
Unfortunately the Ethiopian Federation did not take the hint, and left him off the Olympic team for Rio. The Olympic's loss was Berlin's gain and in a fantastic battle last September, Bekele took the Berlin Marathon title ahead of Wilson Kipsang. Running an incredible 2hr 03:03, Bekele broke his PB and was 10 seconds ahead of former world record holder Wilson Kipsang who broke his own PB (the former world record) in second.  It was a remarkable return to top form and has some now questioning if Bekele is ready to challenge Kipchoge's crown as the worlds greatest marathoner.
Part of the original Sub2Hrs project headed by British scientist Yannis Pitsiladis, Bekele also lined up in the Dubai Marathon this January amid strong talk that he was there to break the world record. Unfortunately Bekele's race was over almost before it began. He fell within seconds of the start and despite attempting to run on, lost contact with the leading group due to injuries sustained in the fall and eventually dnf'd.
He has not raced since so goes into the event as a somewhat unknown quantity but is, in many peoples eyes the favourite to win.
Feyisa Lilesa – Ethiopia
Whilst London may not have the Rio Olympic champion, they have the next best thing. Lilisa, the silver medalist from Rio was also arguably the biggest story to come out of that race. Raising and crossing his arms as he crossed the line in a defiant gesture against the Ethiopian government, Lilisa risked disqualification under the Olympic Games policy of not allowing political statements. They did not take action against him and he kept his silver medal but Lilesa's life has been far from simple since that day in Rio.
He has not returned to Ethiopia since the race for fear that his life would be in danger and his story has been excellently documented by the good people at Letsrun.com.
http://www.letsrun.com/news/2016/08/bravest-olympian-rio-ethiopias-feyisa-lilesa-speaks-killings-oromo-protesters-ethiopia-earning-olympic-silver-marathon/
He has now settled in Flagstaff, USA, and that his training has been going well was evidenced by his win at the New York Half Marathon in 60:04 in March, The 2016 Tokyo Marathon champion will be looking to add the London title to his CV on Sunday.
Abel Kirui – Kenya
The 2009 & 2011 World Champion is back in London and looking forward to racing in the same city where he won the Olympic Silver Medal in 2012. Kirui suffered a succession of injuries including a stress fracture in his shin after that performance in 2012 which threatened to derail his career. He bounced back in October of last year when he won the Chicago Marathon pulling away from compatriot Dickson Chumba in the closing stages when the expression of pain on his face suggested for all the world that it was Chumba who would go on to take the victory.
Kirui instantly broke into his famed victory dance and his career was back on track.
Kirui trains in Iten with long time Italian coach Renato Canova. A addition to the training group this season has been Geoffrey Kirui who won the Boston marathon earlier this week. This bodes extremely well for Abel Kirui who has reportedly been ahead of his namesake in key workouts during the build up.
Coach Canova is the only top level coach we know of who happily shares his athletes training and preparation in advance of the event. He has revealed that the two Kirui's (unrelated) performed a key 40km long run together in Nangili, a common location for long runs for Kenya's star marathon runners, and that Abel pulled away from Geoffrey in the final 2km eventually finishing 24seconds ahead in an astonishingly fast time of 2hr 07:04 (2hr 14 marathon pace on a dirt road at 7000ft of altitude in training).
We sat down with Coach Canova in Iten in March this year and he told us that Abel's training was going extremely well but that "Kenenisa in 70% of shape beats anyone else in this field'. (Canova also revealed that he was again working closely with Kenenisa and his team and during our conversation he took a phone call from Ethiopia and was in deep discussion as the make up of Bekele's next workouts with his coach in Ethiopia.)
When Abel sat down with our Kenya Experience runners in Iten in March he seemed quietly confident and told us that he was hopeful for a podium finish but that the marathon is a difficult event to predict and he knew he was up against a strong field.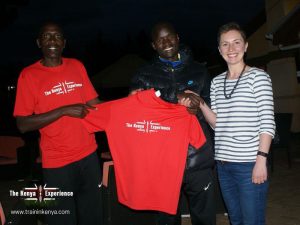 Bedan Karoki – Kenya
Bedan's is the most eagerly anticipated marathon debut for some years. A absolute star of half marathon running, many insiders believe he could be a real force to be reckoned with over the coming years over the full 42.2km distance. Karoki has run under 60minutes for the half marathon 6 times (in only 7 attempts) and he won his most recent (which was also his PB) in RAK in February in 59:10.
He has good track pedigree and is a regular member of Kenya's national team at 10000m with a 10000m pb of 26:52.
Educated in in the Japan, Bedan is a member of the DeNA corporate team in Japan and unusually for a Kenyan athlete he still spends much of the year training outside of his native homeland. He is fluent in Japanese.
Ghirmay Ghebreslassie – Eritrea
Up until the 2015 World Championships where he won gold, Ghirmay Ghebreslassie was known to many as the man with the famous name (slightly different spelling), but the young Eritrean has certainly grown into his name with a succession of impressive performances. He backed up his World Championship win with a series of stella 4th places in last years London Marathon and Olympic Games before going on to to win the New York Marathon last autumn.
The only question mark against the 21year old is whether or not he can run a really fast marathon with his best performances up to this point coming in championship or tactical/non paced races. Given the calibre of athletes he has beaten in his recent marathons his comparatively slow PB of 2hr 07:46 looks as though it could be in line for a serious revision.
Others not to be ignored:
Daniel Wanjiru – 2016 Amsterdam Marathon champion with a PB of 2hr 05:21 from the same race.
Tesfaye Abera – Won Hamburg and Dubai Marathons in 2016 but dnf'd in the Rio Olympics (prehaps not surprisingly after having raced 2 marathons that year already) and has not demonstrated good form since.
Our Prediction:
1st Kenenisa Bekele
2nd Abel Kirui
3rd Feyisa Lilisa