Don't just take our word for it. Explore this page to learn more about us from the runners who have attended The Kenya Experience. View video and written testimonial, as well as explore our Trustpilot Reviews (we're a 5 star company) and meet the runners who have attended on our Meet our Guests page
Worried that Kenya Experience isn't for you?
Our guests come from all corners of the world, with wide and varied running experience, age, background and personal lives. Most are solo travellers whilst some come together with friends or family.
 Follow the links below to meet some of the runners who have joined us in previous camps and see that The Kenya Experience really is for all runners.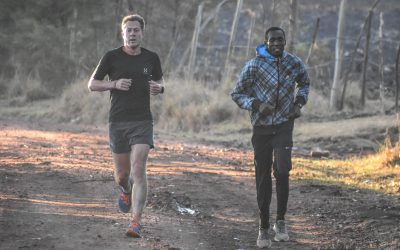 Name: Ian Malcolm Age: 45 Occupation: Finance & business management. Country of Residence: UK Kenya Experience Camp: March 2019 Training Focus Weeks Running Times: Marathon Goal of sub 3 hours Ian is a financial officer from the United Kingdom who,...
"I've had such a brilliant time. From the start it's been well organised and the staff along the way have been lovely. I will always remember this trip."
"Kenya Experience is a super nice concept and a unique experience. There was a good mix between local and more western oriented coaches/guides. Everyone was very welcoming and warm and friendly."
"Kenya Experience was a great opportunity to experience the Kenyan running culture from different perspectives such as training, nutrition and lifestyle. I would definitely recommend Kenya Experience to any runner who is stuck in their performance and would benefit from learning the Kenyan training"
"A once in a lifetime experience. It was great to be with and learn from the Kenyan athletes. I learned a lot and I am very happy I made the choice of joining Kenya Experience. I wanted to come on the camp to learn the Kenyan way of running. Being a coach I wanted to experience the way the Kenyans and the best athletes in the world train."
"The Kenya Experience was rewarding, inspirational, and provided a detailed insight into the life and hardships of Kenyan runners and citizens in general. The team of staff were very friendly including the pacemakers who were very friendly and mades us feel welcome"
"I love running but my priority was to see what the running scene is like here, and to see some Kenyan life. That was more important than improving my times. I also wanted to share that experience with my son who came with me on the trip."
"I've had an amazing time here. A nice and peaceful place with great people. I really enjoyed all the excursions and I have also improved my running form and pace!"
"Amazing, one of the best experiences ever"
"Truly awesome, inspiring and humbling. I lived the dream. Running in Iten has always been a lifelong dream & an organised camp was the perfect introduction to the Kenyan lifestyle. A truly memorable time with a great mixture of likeminded people"
"In one word, fantastic! The people, the helpers, the programme, it was all excellent. I've wanted to do this trip for a long time and I'm delighted that I did it. I would recommend Kenya Experience to runners of all abilities. The fartlek was brilliant and the run in Singore forest was like being a child again. Amazing!"
"My time here was an experience on every possible level. Making new friends and sharing Iten, Kenya with likeminded people was a true blessing. One thing I particularly enjoyed was having Peter as my pacer! He has helped me so much! And Coach Hugo's coaching tips are excellent!"
"The Kenya Experience for me was all about meeting great and powerful people. These athletes proofed me what I can actually achieve with a bit of dedication. 
Thank you for all Kenya Experience staff for the professional guiding and help in Kenya. Once more, it was such a positive experience. Definitely will come back"
"Thank you for the great opportunity and experience in Kenya!
Songok's continuous involvement, commitment and detail to ensuring the camp's smooth daily activity is top shelf!
I can definitely recommend The Kenya Experience"
"The camp was excellent, everything I expected and more!
The makeup of the group really helped. I was very glad it was so international and diverse. There was a good mix of ages, running abilities and objectives too – I would recommend that you make it clear that everyone is welcome, not just the super keen speedy guys.
I came away feeling that I really understood the Kenyan training philosophy, and that I had been exposed to it, both watching the elite athletes in Iten and in our own program. The volume of training we did and the atmosphere around it was perfect- not too ambitious or pressured. Also there was a good balance between training and activities that ensured the energy levels were in the right place.
Thanks again so much. I first contacted you over a year ago when I heard about The Kenya Experience – I'm so glad to have been able to see it through. I will be evangelizing far and wide about it!"
"The Camp was absolutely fantastic.
I had an amazing time and will never forget it. The running was spectacular, the food excellent and company great fun. The organisation from Songok, Godfrey and Finn was also absolutely superb.
I came back feeling fitter than ever before and both astonished and inspired by the chance to meet Kipchoge, Kipsang, Kirui and Kiprotich amongst others.
A brilliant experience which I cannot recommend highly enough. I went thinking of it as a once in a life time experience but now want to come again!"
"I really enjoyed The Kenya Experience trip and am so glad I went. It was a fantastic experience and I learnt a lot. It was very nice to meet with local coaches and athletes, as well as to mix with fellow runners from across the world. It was super to have a pacemaker to run with, however, what I most enjoyed was training with the local Kenyans in such huge groups! I wish I could train with others like this more often!"
"This trip was one of the most amazing experiences of my life.
Not only did we have a wonderful group of interesting idividuals, our group leaders went above and beyond to keep us interested & inspired, filling our days with interesting speakers and visits to meet athletes, training camps, schools & coaches.
The training was also enjoyable and although I was slower than 90% of the group, myself and my running buddy were given a pacer of our own and we never felt pressured to run faster than we could manage.  We were constantly encouraged and cheered on by our group which was so nice."
"I couldn't recommend it enough – it was very organised both before and during the trip. Any questions I had before the trip were answered straight away and very clearly, and during the camp Songkok was really organised and was the perfect manager of the group. All trips we did such as going to St Patricks and visiting a primary school were all very interesting, and of course meeting all the elite athletes was an incredible experience!"
"I thoroughly enjoyed the experience and it was honestly even better than I'd hoped it would be.  The Kenyan people are just amazing and it was incredible to see how welcoming the athletes were in particular. Thanks so much for putting this experience together"
"I had an experience of a life time!  Although I am a recreational runner I felt right at home in Iten with so many Elites!  The program was very organized yet Timo help accommodate the program to the group's needs.  I was also amazed how many of the world's top athletes we actually able to meet and train with!  I want to come back!"
"For me this was the best trip I have ever been on and am definitely going to return. The people are warm and friendly, the set up for training is great and the opportunity to meet and run with elite runners is something that you would find very hard to match anywhere else. It was what I imagined in so many ways but better… just a brilliant time and certainly the trip of a lifetime. For anyone who loves running, this is a must do trip."
"The camp blew all of my expectations out of the water.  I had a fantastic time.  I was very interested in all of the sessions we had and felt that I learned a lot about being a better runner and Kenyan running.  I was really impressed with the coaches knowledge of training, Kenyan running, and connections to speakers.  I appreciated how flexible and responsive the staff were to the group's diverse needs.   
I really enjoyed hearing Tom speak and going to visit/run with his camp.  Running with the Kenyan camp was really awesome.  It was very interesting to hear Moses (Tanui) speak about how he thinks running has changed since he retired.  I also learned a lot from talking to the coaches about marathon training, specifically workouts that I could incorporate into my training.  I also enjoyed the core sessions with the Kenyans – they were so entertaining.
I think you did a great job of incorporating extra sessions for individuals within the group.
They (the staff) were fantastic! They made me feel very much at home."
"Every aspect of the camp was great, I learnt so much from the coaching and practical sessions."
Firstly I want to say that the trip was amazing, it surpassed my expectations in every way! I couldn't fault one single element of it.
Songok was so welcoming friendly and accommodating of everyone on the camp literally 24/7, nothing was too much, even down to making sure we had water at our tables at dinner! He was always making sure everyone knew what was going on in terms of the running meets, and all the meet ups for the various other things that were going on. Nothing was too much trouble
It was so good to have all the pacers every morning to show us around and take us on some interesting routes mixing it up every day. And to have so many every day (was like 5-7 each day probably) ensured there were plenty of options available to everyone to cater for their needs. We did our long run over in Singore forest which was a delight, hilly even by Iten standards but lots of fun and I'm pretty sure all of the group loved it
Everything else was organised to a tee, all the excursions, seminars everything was so smooth. The trip we took to Mary Keitany's house on the last couple days was my personal highlight."
"I LOVED The Kenya Experience 🙂 Songok was just wonderful – so welcoming and amazing.
Everything else was fantastic. Im considering coming again in March…"
"Martha and I had a wonderful time in Kenya, it far exceeded my expectations. It was an amazing experience and I would love to go back. Songok and Godfrey were awesome in organising everything."
"Life is amazing. One day you read a book and get an inspiration. A year later you run in the same locations and meet the people who were key characters in the story. On top of that you get to know and train with fantastic people from all over the world. Not to mention all the top elite athletes you are privileged to meet and learn from.
All that and so much more happened to me in The Kenya Experience 'Running With The Kenyans Camp' at Iten. These past two weeks exceeded my expectations day after day. Words are not enough. Thank you"
"Had an absolutely fantastic time and learnt an incredible amount. I loved how it was a total immersive experience and we felt really embedded into the training culture. 
I thought the staff  were all fantastic, and it was great to have them with us. Accommodation, food and staff were all exceptional. Loved getting local food everyday! Godfrey and Willy were fantastic hosts and made us feel so so welcome and comfortable.
Overall an 11/10 experience and have already been recommending this to fellow club runners."
"The camp was well organized and delivered on everything I expected.  The Kenya Experience left me humbled and inspired by the Kenyan style of running. I would highly recommend it!"
"I can't wait to return to Kenya!  I had the most wonderful and memorable time.  Iten is truly a runners heaven.  If you love to run and you love the outdoors then you will absolutely love Iten. I am so glad that I signed up through The Kenya Experience.  The camp was very organized.  I didn't need to try to figure out where to run or what to do. They did it all for me. I met so many elite runners and felt very inspired by the whole experience. I would recommend this trip to any runner.
For me, it was not all about the running. Though, I am a competitive runner and wanted to see improvement, I also wanted to experience Kenya and get to the know the Kenyan way of life.  I loved that we went to local schools and were able to see the kids.  Our group donated school supplies that was brought from home or purchased in Kenya. I loved being able to see what was needed and ways that I can help out."
I highly recommend this trip. It will change you for the good.
"First and foremost, I would like to thank you guys for providing us with this great opportunity ! I believe this is a perfect opportunity for runners of any backgrounds, both short and long distance. Our group had a lot of fun and we really enjoyed it!
The scenery of the places we ran is just STUNNING ! I can not stress enough the beauty of the forest there !!!"
"The Kenya Experience blew away my expectations. HATC is a world class facility in a town of world class athletes, and the Kenya Experience allowed me to be a part of the action and be treated like a world class athlete myself. In addition to the running, experiencing Kenya and the life in Iten was an eye-opening, SAFE experience that left me a changed-person, for the better. I simply cannot express how wonderful this experience was. Regardless of your dedication to running, the staff at HATC and people of Iten are welcoming. Truly a trip of a lifetime."
"A big thank you to you and your wonderful camp. With your help I managed to run my goal of sub 80 at Two Oceans. I am so stoked. Ran 79m06s, a 3min pb on that course. When things got tough I just thought of all those runs in Kenya and pushed on. Thank you for helping me achieve my goal"
"The Kenya Experience Training camp was the best experience of my life to date; surpassing all my expectations. It was perfect for me; being my first time both in Kenya and at altitude. I really benefitted from the structure and support network that the camp provided; yet also relished the freedom within the camp's setup; giving me a chance to explore Iten for myself.
The camp was the perfect chance to train amongst some of the world's greatest runners with likeminded athletes. The coaching is truly fantastic and covers all bases from the expected sessions and mileage to conditioning, technique and the mental side of running.
However what made the camp the marvel that it is was the people; both at HATC and within Iten itself. I've never met such a friendly and welcoming society who are as excited to see you as you are to be there. The 'family' feeling of being at camp is what made it such an amazing experience and I can't wait to return"
Contact Us:
Please email us with any questions
Visit our booking page to book your place
Follow The Kenya Experience for all the latest updates:
[fts_instagram instagram_id=17841401924615371 access_token=EAAP9hArvboQBACa9fycL1m784hM8hITH0GDudNwsuu6nqwuoQizZBOMkhaBZBHi3F7okgAYIsNANO2naAGObiBvFDKOBu6gG8kH98E3CoMPdM8PVJLsqOBtUPGFZCuvSyr0H2ceeFFj7jP9Oyj3sAXqBoy6Ici1ZChg3s0CsEgZDZD pics_count=6 type=business super_gallery=yes columns=3 force_columns=no space_between_photos=1px icon_size=65px hide_date_likes_comments=no]