..A week after Mo Farah won perhaps the worlds best known Half Marathon at The Great North Run, a whole host of Kenyan runners dominated a race of far higher quality in Copenhagen, but aside from a few niche news outlets and the hardcore fans not too many people noticed.
Why there is so little interest in a genuinely world class field going head to head in one of Europe's great cities is a mystery that those promoting the sport must surely be trying to solve.
7 men ran under the coveted 60minutes barrier which eluded Mo Farah in the North East of England, but not one of them could be a considered a house hold name. In fact, as we will see later in the piece – Google barely evens who some of them are. See Copenhagen results here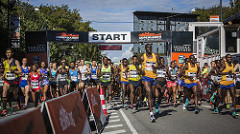 Let's take a look at a few of the runners involved in this incredible race in Copenhagen and see what it throws up…
The best known athlete in the Copenhagen field by some way was Bedan Karoki, (Often also seen as Bedan Karoki Muchiri), the man often put up by the Kenyan media as a potential Mo Farah slayer come major championship 10000m race on the track. Whilst over 25laps you can usually expect to see Muchiri putting up a game fight only to watch Mo ease away from him in the final few laps, on the roads he is a different animal. He is yet to pick up a major medal on the track but he has two world championship silvers (both behind Geoffrey Kipsang Kamworor) over XC and Half Marathon with the latter being ahead of the aforementioned Mo Farah.
With a slew of fast 10km and HM road times under his belt and many big city HM wins, Karoki is a seen by many as future marathon star and this race was not unrealistically being touted as a World Record attempt by him.
It wasn't to be an Karoki wound up 5th in a still world class 59:36, 28seconds faster than Mo Farah ran to win in the North East of England a week earlier.
This is not an 'Is Bedan Karoki better than Mo Farah on the roads?' piece (he is by the way) but merely trying to highlight the quality of this race not only terms of time, but also in terms of head to head competition. A 59 low man (Karoki) put himself and his reputation on the line by happily lining up against a whole field of men with the credentials to try and beat him.
Other runners with very significant credentials going into the race included Sammy Kitwara – a sub 59minute performer at his best, Leonard Komon the current world record holder over 10k and 15k on the roads, and Japhet Korir the 2013 World XC Champion. It was a truly world class field.
However, the deep field, fast times, and great head to head competition had not won over the public or media's interest and this is a worrying trend.  On an almost weekly basis Kenyan and Ethiopian runners produce staggeringly good performances on the roads and we need to start questioning why the general public don't care about them.
Whilst Karoki's world record bid never really materialised, there was one man in the field who really did get after it.
Eventual race winner James Mwangi Wangari passed the 10k mark with a sizeable lead over the stacked field in 27.15 (a time which would comfortably have won any 10k road race so far in 2016) before succumbing to the early pace and the strong winds in the final 7-8k to win in a time of 59:07 to take 7 seconds off the course record Karoki had set the previous year.
I found myself asking "who is James Mwangi Wangari?" And considering that if I've not heard of him as someone who makes a conscious effort to keep up with this stuff, then what chance has the casual fan out there got of knowing about or relating to (or dare I say supporting?) athletes like James Mwangi Wangari.
Google was my obvious first port of call and that brought little more than a few Facebook profiles of men who clearly weren't current sub 60minute half marathon performers.
In fact beyond race reports from this very event I couldn't find much if anything on someone who is clearly one of the very most elite men in world road running.
Looking at race photos I was able to identify that James is managed by Rosa Associati via the colour of his vest (Rosa athletes always have a different colour of the same design as the standard Nike kit – one of the more forward thinking moves in the sport.). So next port of call was the Rosa Associati website which once translated into English (not a criticism of them for operating in their own language – just pointing out the steps needed for an English speaking fan to find some information on this superstar.) I was able to confirm that he was indeed a client of Rosa Associati and to find a few race reports of previous events he had competed in.
So I looked for his profile on their  'Athletes' page hoping to find some basic information: Where he trains, who he's coached by, which football team he supports maybe. But the grand total of information offered forward for public consumption by his own management team amounts to (a possibly outdated) 10000m PB plus his Nationality & D.o.B.
Comparing this information to his IAAF profile adds more confusion rather clarity or expansion.
Following the links directly from the IAAF race report from Copenhagen to the athletes own IAAF profile on him takes you to an athlete named "James Ndirangu Mwangi" rather than the James Mwangi Wangari who is reported as the race winner.
The DoB and 10000m PB's are both different than that given by his manager. There are enough similarities for me to be inclined to believe I am looking at the correct athlete but it's certainly not helping in my quest to find out more about this intriguing runner.
Compare his managers info on him here with what the IAAF report here
Again I'm not here to criticise the people involved with James or those up keeping the IAAF stats but I would have thought it would be in their interest to promote these athletes and the first step might be to ensure that they use his name consistently.
This just highlights that if its this difficult for me to find any information on him when I set out with the specific objective of doing so, then what chance is there for a casual sports fan to take any interest in whats going on and what motivation are we giving them to want to do so?
When Paula Radcliffe commentates on the distance events at a major championships it really adds something to the story when she can provide additional information on the the athletes running. It's basic stuff to do with their training set ups and personal lives but it's interesting and it the type of things that do require some insider info or research. I often get frustrated that this info from Paula doesn't extend far beyond the the trails of  Font Romeu or Eugene, but when it's all bar impossible to find a basic profile on a man who can run 59minutes flat for a Half Marathon what hope is there?
OK – so I realise that I am now offering a lot of problems and no solutions, but hopefully I am at least helping to open up a dialogue on the issue.
Why are we struggling gain any traction with the mainstream audience for this type of race? I don't buy it that it's simply not exciting to people – I think most sports can garner a big audience of engaged fans if the quality is high and the delivery is good.
The quality is most certainly there – but it appears that the delivery is somewhat lacking.
Suggestions on a postcard please…
From a personal perspective Copenhagen was a good race as I had 2 athletes I coach running and both had very positive experiences a little further down the field.
Peter ran a 2minute PB in his first race since joining us to finish in 1hr 25:09 and only an overly enthusiastic section from 15-20km cost him his dream goal of sub 1hr 25. Paw ran the event as part of his preparation for Amsterdam Marathon and ran faster than marathon PB pace in 1hour 37 having already run for an hour before the event started; providing a great training session for Amsterdam.
Moving forwards, the distance running community now turns it's attention to Berlin this weekend where another great field has been assembled – let's hope that  few more people take notice this time.
Cheers, Gavin